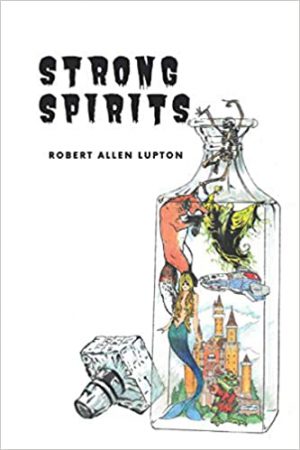 STRONG SPIRITS
By
Robert Allen Lupton
Third Collection
Robert Allen Lupton's third collection of fantasy, science
fiction,horror, and adventure stories are tempered with wit and humor.
Journey from the edges of the galaxy to the high desert of New Mexico,
from fairy lands to stone castles guarding ancient coastlines. Meet
swordsmen and brew masters, genies and sheriffs, wrestlers and robots,
and travel on space ships and ghost trains. Nothing's quite the way it
looks and even the most evil villain and the most noble hero learn not
to take themselves too seriously.
STRONG SPIRITS is available in paperback for $9.99 and On Kindle for
$3.99. The book is available to read for free with Kindle Unlimited.
The cover art is by my friend and professional artist, Mike Walter,
and the book design is by Robin Allison Lupton.
Here are the links. Amazon hasn't linked the paperback and Kindle
versions yet, but they're both available.
Paperback: https://www.amazon.com/dp/B0882JH6WZ
Kindle:
https://www.amazon.com/STRONG-SPIRITS-Fantasy-Science-Adventure-ebook/dp/B0882R6J99