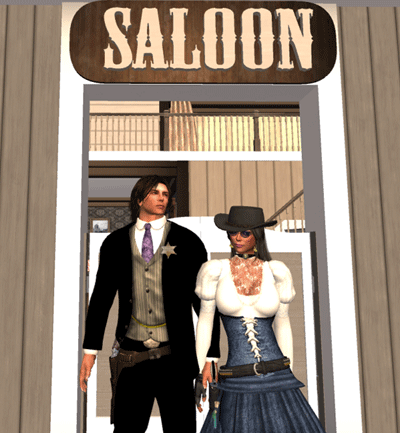 The Day the Dinosaurs Landed in Arizona
By
Richard L. Rubin
My name is Patrick F. Garrett XII. In the Great Solar War, I served as first lieutenant on the battleship Barfleur during the Europa Campaign. After that devastating interplanetary conflict ended, and much of Earth had been reduced to sparsely populated wilderness, I returned to Earth and opted to follow in the footsteps of my namesake ancestor, the lawman who killed the Wild West outlaw Billy the Kid. I was duly elected sheriff of the Arizona Free Territory, which prior to the war had been part of the United States of America. This is the story of my encounter with the mad scientist Professor Robert E. Carnage, on October 4, 2217.
That afternoon, like most, I was sitting at my favorite table in the Last Chance Saloon in New Tucson, engaged in a friendly game of poker with some of the leading townsfolk. I'd just drawn the wrong card to an outside straight when the two sabertoothed tigers showed up out of nowhere
Just before they appeared, there was a sound like a clap of thunder. I looked up from my losing hand and noticed a strange silvery shimmer in the air above the great big mahogany bar at the back of the saloon. Then the shimmering dissolved, and suddenly there were two huge orange and black varmints, with large dagger-like protruding teeth, crouching and snarling as they perched up on the bar assessing their new surroundings.
Doris, the plump barkeep, just stood there in shock, continuing to pour whiskey into an overflowing shot glass. The amber liquid flowed over the counter and onto the tail of the nearest big cat. With a savage roar at this affront, the creature lunged at Doris, seizing her throat in its jaws and then disappearing behind the bar with the poor woman.
Then the other tiger jumped down from the counter, let out a roar, and charged into the middle of the barroom. The saloon exploded into chaos, as patrons in the crowded room fled in panic, dodging out of the tiger's path. My three poker partners scooped up a few handfuls of money from the table, and made a dash for the front door. But I'm the Territory's lawman and I couldn't very well do that, much as that idea appealed to me. So I stood and drew my raygun from its holster. Holding my aim steady with a two-handed grip, I tried for a clean shot at the rampaging huge cat. Just when I thought I had my shot, one of the dance hall girls, screaming and running in terror, crashed into me, knocking me to the floor, and sending my raygun flying out of my grasp and across the room. I jumped to my feet again and began desperately looking about for my raygun, but it had vanished in the pandemonium.
Somebody yelled, "Sheriff–to your left!" I turned to see one of the sabertooths heading straight at me. I grabbed a chair, and brandished it at the tiger, lion-tamer style. The beast lunged at me and I whacked it hard on the muzzle with one of the chair legs, which caused the big cat to fall back for a moment. The tiger roared its outrage.
I struck again with the chair. This time the large cat lashed out at my chair with a savage swipe of its forepaw, sending the chair flying several yards away and leaving me empty-handed. The creature let out another angry roar and leapt at me. Just as I thought I was headed for Boot Hill, a blast of laser fire burst out from behind me and caught the tiger full in the chest, sending it crashing to the floor in a bloody, sizzling mess. Just then the second sabertooth sprang from behind the bar with Doris' bloody forearm clamped in its jaws, but a second laser blast burned right through the furry varmint.
Still trying to process what had happened, I felt a gentle hand on my shoulder and looked back to see Jessica "Doc" Holliday, the town doctor, and my steady girlfriend.
"Looks like you needed some help there, love. Luckily I happened to be walking by when I did and heard all the commotion."
I gave her a shaky smile. I was lucky indeed. Jessica is a direct descendant of John Henry "Doc" Holliday, the legendary gunfighter, frontier dentist, and best friend of Wyatt Earp. She had earned herself a medical degree from a fancy university on Titan, but afterwards volunteered to serve as a flight surgeon for the Allied Forces during the Solar War. Afterwards, Jessica, like me, decided to reclaim her family heritage, and became a fast gun and the town doctor here in New Tucson. Soon after she arrived in town, the two of us had hooked up romantically. Together we try to maintain what little there is of law and civilization in this rough frontier town.
I said, "Thanks, Jessica, you got here just in time to save me from becoming an afternoon snack. What in the solar system were those things and how the hell did they get here?"
"Those things look like pictures I've seen of sabertoothed tigers from prehistoric times on Earth. And as for how they got here, I haven't the foggiest idea. Excuse me while I check to see if anyone here needs some medical attention."
#
A few hours later, I headed over to Jessica's office to check on any casualties of the attack. After knocking and getting no answer, I let myself in through the unlocked front door. I found Jessica in her examination room, deeply engrossed in examining what remained of the bodies of the two furry monsters, which had been carried from the saloon to her office and set down on adjoining examination tables. She looked up at me and smiled.
"Howdy, Pat," she said. Even wearing a white lab coat smeared with blood stains, Jessica was an attractive young woman, with fashionably cut blonde hair, hazel eyes, and a slim, athletic figure.
"How's it going? I expected to see some people from the saloon being treated over here."
"Actually, aside from Doris, who managed to get herself eaten, the other folks pretty much got out of the saloon unhurt, except for some minor cuts and scratches."
I shook my head, "Too bad about Doris, poor gal. She may have watered down a few drinks in her day, but she had a heart of gold. Have you found out anything more about those big cats?"
"Well, I did a little research and turns out my guess was right. These things"—she gestured at the furry corpses laid out on either side of her, a look revulsion of crossing her face—"definitely match the scientific description of old-Earth sabertoothed tigers. They went extinct on this planet about a hundred thousand years ago."
"Have you given any thought to what they're doing here with us in the twenty-third century?"
Before Jessica could respond, the computer on her desk sprang to life with a screech as a green oscilloscope wave pattern appeared on the screen.
"I am Professor Robert E. Carnage," boomed a cackling maniacal voice from the computer speaker. I've invented a Time Scoop, a super-scientific device which allows me to capture and transport objects and living creatures from any time in the past and deliver them to wherever I choose in the present. It was I, Professor Robert E. Carnage, who transported the sabertoothed tigers into the Last Chance Saloon in New Tucson. As a further demonstration of my scientific prowess, I've just transported a couple of vicious dinosaurs to the outskirts of your town. Unless territorial authorities publicly agree to deliver five million Solar Dollars to me within twenty-four hours, I will continue transporting wild beasts from the past to wreak havoc
upon the populace of the Arizona Free Territory!"
"Just what we need," said Jessica. "A crazy mad scientist!"
Just then, my iPhone 368 rang. I answered on the second ring. It was more bad news.
Returning the iPhone 368 to my shirt pocket, I said, "That was that rancher who owns a big spread about a mile out of town. He says some big giant things like flying lizards with long, thin beaks just swooped down and flew away with two of his best cows. We've got a situation, Jessica. Let's load up some firepower and take the hovercraft out there to see what's going on."
Fifteen minutes later, I was piloting a two-person hovercraft over the ranch, with Jessica riding shotgun.
"Don't see anything unusual down there," said Jessica, gazing out the window at the sprawling cattle farm. "Wonder if those flying creatures are really just a red herring to lure us out of town while this professor fellow plans to do something more dastardly."
"Let's take one more ride around the perimeter of the ranch, then head back to New Tucson."
Suddenly our hovercraft was struck hard by something that rocked the vehicle and bounced off the metal hull. Through the windshield I could see a gigantic grey reptile with a long, sharp beak and an enormous wingspan. The creature was veering away, but looked as if it was getting ready to launch another strike.
"What on Earth is that?" I exclaimed.
"Looks like a pterodactyl, a flying dinosaur," said Jessica. "As I recall, they're meat eaters. I think that one just took the hovercraft for some kind of metal clamshell. I bet it smells us as live meat inside."
"Look, there's another one!" I cried out. "They're both charging us. Probably trying to crack the hovercraft open or smash it apart on the surface below to get at their meal inside. Let 'em have it with your rifle, we can't let those things take us out."
Jessica leaned out of the narrowly open window with her laser rifle as I piloted the hovercraft, putting distance between the vessel and the rampaging pterodactyls. I could see her take aim at the closest beast and hit the fire button, but her laser blast went wide to the right of the rapidly flying reptile. The enraged pterodactyl then closed in, jabbing fiercely at our hovercraft with its sharp, pointed beak. The impact jolted the craft, sending us lurching hard to the left. Jessica aimed her rifle again and fired a second blast at the beast's head, but the erratic movement of our vessel caused another miss. The second pterodactyl flew at us, and caught the narrow right edge of our hovercraft in its beak. It shook our vessel to and fro angrily, no doubt frustrated in its desire to crack the ship open to reach its contents.
"Jessica, we've got to take those creatures out of our sky before they tear us to shreds."
I saw Jessica stare into the menacing eyes of the pterodactyl through the window nearest her. At this range she could hardly miss. She took a moment to aim the laser rifle dead center between the monster's eyes, and fired. The pterodactyl's head exploded into scraps of flesh and shards of bone. A moment later I pulled the vessel sharply away.
I called out, "Quick, Jessica! Take out the other one–to the left and below."
As I banked the hovercraft, Jessica sighted the other flying monster at close range and focused the laser at the center of its back. The shot found its mark and, with a final bloodcurdling snarl, the remaining pterodactyl plummeted lifelessly from the sky.
"Got it, love!" she said.
"Good shooting, Jessica!"
"Let's head back to town."
Later, when we had reached the edge of town, Jessica said, "I've thought of a way to set a program to trace Professor Carnage's location the next time he sends out a broadcast message. Drop me off at my office. I'll be at your place after I've rigged up my computer to catch this bad guy."
#
Two hours later Jessica arrived at my sheriff's office with her reprogrammed handheld computer. I poured out a couple of stiff whiskeys and then set up an old wooden set of checkers. Then we sat down to play some games and wait.
About an hour later, after Jessica had won a few rounds, the maniacal crackling voice of Professor Carnage boomed through my computer speaker. "People of the Arizona Free Territory, the two pterodactyls which I delivered into your community represent only a taste of the destruction I can wreak with my Time Scoop. Publicly announce within the next hour that you agree to my demand for five million Solar Dollars or immediately thereafter I will release a dozen tyrannosaurus dinosaurs into your population centers. This is your last chance! I will show no mercy if this demand is not met!" The broadcast ended.
"Look at this," Jessica said, pointing to her computer screen. "This gives us a location on where that broadcast originated. We've got a precise fix on Professor Carnage's position. Let's cruise over there and take out that bastard before his deadline is up."
I leaned over and kissed her. "Great work, Jessica! Let's load the laser rifles into the hovercraft and head back out."
#
A half hour later, I silently landed the hovercraft near an isolated wooden cabin hidden away in a canyon about twenty miles outside of town. As we touched down next to the large structure, I checked my laser rifle and said, "Jessica, I'm going to blast open the door. Set your guns on stun; I want to take this bastard alive if we can." A moment later, we leapt out of the vehicle and dashed toward the cabin door.
I fired my laser rifle at the metal door; the force of the blast blew it to the ground. As we entered, we found ourselves in a large laboratory containing chemical racks, and a variety of strange-looking computers and other electronic devices. An old-style shotgun stood propped up in one corner. On the opposite side of the room, next to an electronic machine taking up the better part of a wall, sat a small gnome-like man with thick wire spectacles and a high-domed forehead.
"Professor Carnage," I called out, "you're under arrest for your despicable crimes." The wizened man pushed a large red button on the machine next to him, then jumped out of his chair and charged towards the shotgun.
There was a whirling noise and Jessica shouted, "Look out, Pat, he's got a robo-gunslinger!"
She leapt at me and threw both of us to the floor as a burst of laser fire flamed over the spot where I'd just been standing. Jessica and I rolled on the floor, moving in opposite directions. I dropped my laser rifle when I struck the ground, but as I rolled I was able to draw my raygun pistol from its holster. I came to a stop lying on my belly, with my raygun in firing position. I looked across the room at the robo-gunslinger, a four-foot-high, thin metallic contraption adorned with a Stetson hat. The robot, armed with a high-powered laser rifle, spun towards me on its wheeled base. I fired my raygun but missed wide; then I rolled again as the robot gunslinger paused to take aim at me.
Meanwhile, I could see Jessica had managed to take cover behind a large machine set by a wall. She hefted her laser rifle and cautiously peered out to assess the situation. Professor Carnage raised his shotgun and took aim in her direction. Jessica ducked back behind the machine just as the shotgun fired, the shotgun pellets smashing into the machine in front of her.
Apparently drawn by her motion, the robot pivoted to face Jessica and fired a quick laser blast which burned into the metal framework just inches from her shoulder. With the robot's attention diverted from me, I took aim and shot Professor Carnage square in the chest with a stun blast from my raygun. The mad scientist dropped his shotgun and crumpled to the floor.
I called out, "Let's catch that damn robot in a full-charge crossfire on the count of three."
Jessica reset her weapon from stun to full power, as I did the same, and counted off. "One . . . two . . . three." We both shot blasts at the robo-gunslinger at the same time from opposite sides of the room. The robot froze completely for a moment, then started moving towards me again without any apparent damage. Jessica fired once more. Her laser blast hit the robot's chest dead center, again to no avail. Professor Carnage had apparently devised a means of shielding the robot's metal surface against laser fire. The metallic killing machine continued its steady roll towards where I had positioned myself behind the piece of equipment Professor Carnage had been sitting at when we entered.
I could see Jessica crouch down and make a dash for the shotgun the crazy scientist had dropped. Diving for the antique firearm, she tucked and rolled on the floor, grabbed the shotgun, and came back up in a kneeling position. Pumping the gun's slide action, she advanced a fresh shotgun shell into the firing chamber, took aim at the robot's head, and fired. I whooped as her shot blasted the thing's head apart and sent its Stetson flying across the room. With a metallic thud, the robo-gunslinger collapsed into a smoking heap of scrap.
Jessica was about to handcuff the unconscious professor, but I took a look at the computer displays and called out, "Jessica, come here! This machine that Carnage was at when we entered must be his Time Scoop. It looks like he already activated it!"
Jessica ran over. Above the controls, a bank of computer monitors displayed images of tyrannosauruses scattering people on city streets, crashing into buildings, and otherwise creating havoc. Gesturing towards the machine, Jessica said, "We need to figure out how this thing works so we can send those creatures back home. Then we should destroy this damned device."
A few minutes later, Jessica carefully adjusted some dials, and said, "That should do it. The polarities of the Time Scoop have been reversed. The tyrannosauruses will be returned to their own times."
She triggered the main switch. There was a crackle of electricity and a puff of smoke as the machine activated. I watched Jessica survey the monitors, gauges, and readouts. She added, "It's done, the dinosaurs are gone from our time. I think if we turn down these two throttle switches at the same time, the Time Scoop should overload its circuits and effectively self-destruct. If we do that, we'll need to get out of this area fast to avoid being caught in the time-shifting wake of the reaction."
"Let's do it," I said. "Get ready to make a run to the hovercraft for a fast getaway. We'll take the professor with us." Jessica pressed down both throttle switches. The machine began to make a low hum, steadily increasing in intensity. Heavy black smoke began pouring out of the top of the contraption.
I picked up my laser rifle from where I'd dropped it and slung it over my shoulder. I said, "Go on ahead and start up the hovercraft. I'll get the prof."
There was a frantic cry from the far corner of the room. "Stop, you imbeciles!" screamed Professor Carnage, who had recovered from the stun blast. As he dashed for the Time Scoop, he shouted, "You're destroying one of the greatest inventions of mankind, you fools!"
I tried to tackle him, but as I closed in, the crazed scientist landed a punch to my face that knocked me to the floor.
I raised up on my elbows and saw that Professor Carnage had almost reached the Time Scoop. I yelled, "I won't allow anyone to save that scientific monstrosity!" Taking a firing position prone on the floor, I aimed my laser rifle and fired a full-power blast at the throttle switches, fusing them to the mainframe of the machine. The metal glowed red hot. The front surface of the machine cracked wide open and a blue shaft of light streaked out into the room.
"The Time Scoop effect is leaking out!" Jessica called out from near the door. "Let's get out of here! Don't let that blue beam hit you!"
Professor Carnage stumbled and fell headlong into the blue shaft of light. He let out a bloodcurdling scream and then, in an instant, he vanished.
Jessica and I rushed out of the cabin and into the hovercraft. Moments later, we were airborne and speeding away. A deafening blast arose from the ground below us, sending a shockwave shuddering through the vehicle, tossing us about in our seats.
"You okay?" asked Jessica.
"I'll be all right," I said, holding a handkerchief to my face. "Just a bloody nose. What just happened?"
"I'd say that crazy scientist got caught up by his own Time Scoop and transported to another time just before the machine blew up. I'd also say there's a very good chance he got transported back to the Jurassic Age. That's the last place the controls were set for." She smiled. "He could very well end up being eaten by one of his reptilian friends."
I laughed as I tended to my bleeding nose. I said, "Look what he did to me! If that bad guy ends up being a dinosaur's dinner, it will serve him right!"
Richard L. Rubin graduated from U.C. Berkeley, with a degree in Philosophy, and subsequently obtained a law degree from U.C. Hastings College of Law. For 30 years Richard worked as an appellate lawyer, including the defense of several clients facing the death penalty in California. Richard's flash fiction story To Soar like a Bird is available for free as the February 2018 Dark Fiction selection at Eastern Iowa Review at  www.portyonderpress.com/dark-fiction.html  His short story sci-fi thriller Robbery on Antares VI is available on Amazon. Science fiction stories written by him also appear in Issue #4 of Blasters and Broadswords magazine, and the Rogue Planet Press anthologies Warlords of the Asteroid Belt, Deep Space Dogfights and Fall of the Galactic Empire. Richard is an Associate Member of the Science Fiction and Fantasy Writers of America. He lives in the San Francisco Bay Area with his wife, Susanne. Richard's website is at:  www.richardlrubin.com/